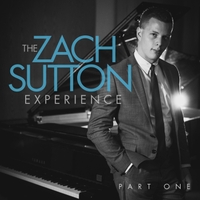 The Zach Sutton Experience, Pt. I
Genre: Pop/Piano
Release Date: 2017
The Zach Sutton Experience, Pt. I features an all-star cast of talented friends and musicians. It also showcases several different genres of music and truly offers something for everybody. Whether it be Soul, Country, Pop, Gospel, Jazz, and even a few classic songs from decades past, this album is truly a listening  experience. And that's how it is meant to be. It can be used to study, set the mood at a party, or it can allow you to concentrate and soak up every note sung or played. So hop in the car, invite some friends over, put your earbuds in, or crack open a textbook and enjoy the Zach Sutton Experience, Pt. I.

Life in the Autumn
Genre: Urban/R&B/Soul
Release Date: 2014
These five tracks briefly describe life during the Autumn and Christmas seasons, but also gives the listener a taste of those times in life where we don't know where we are or where life will lead. They also make for great background music during the Fall and Winter months. So whether you give these tracks your full attention, or use them as background music to spice up your Holiday gatherings, these songs express the feelings, the truths, and the unknowns of life in the Autumn.

September
Genre: Pop Piano
Release Date: 2014

Strawberry Bubblegum
Genre: Urban/R&B/R&B Pop Crossover
Release Date: 2013

Here's What's Going On
Genre: Reggae/Pop-Reggae
Release Date: 2013

Simple Pleasures
Genre: Pop Piano
Release Date: 2013

The Gathering
Genre: Jazz/Contemporary Jazz
Release Date: 2013